London Coworking Spaces for Digital Nomads and Freelancers
Are you a digital nomad or freelancer in London? I have been researching the best London coworking spaces for digital nomads and freelancers, so you can get an idea of prices and locations.
Being a digital nomad or freelancer comes with many benefits: freedom, flexibility, independence, smart budgeting. However, more and more digital nomads are looking for a sense of community.
Unsatisfied with run-of-the-mill cubicles in shared or managed offices, today's digital nomads want to work in attractive and inspiring environments where they can connect with like-minded people. Unlike traditional offices, coworking spaces attract creative entrepreneurs and you may end up brainstorming ideas for your business and establishing useful relationships.
Do you know what can be a real drag? Logistics. If the more practical aspects of having premises are taken care of, your only job as a digital nomad or freelancer is to focus on delivering your project. Having an unlimited supply of coffee included in the venue hire price also helps.
Here is a rundown of high quality coworking spaces, grouped into premium (aka membership-based) or free. Prices quoted are for 2017.
If you are a digital nomad: you will be more interested in venues that offer hot-desking per day.
If you are a freelancer or small start up: you will be more interested in venues that offer good value for money monthly fees for office space.
Co-working Spaces in London Video
Searching for Premises: Hubble and Nomad Space
You won't believe how many coworking spaces there are in London: finding the right one to suit your needs can be a project in itself because there is so much choice. That's where aggregators can be useful: they have grouped together different providers so you can see what is available at a glance. Sometimes you can access exclusive discounts by joining their mailing list.
It is worth starting your search with these websites.
Hubble
Hubble is "a place where freelancers can find and view co-working space". They offer a search facility to businesses of all sizes that are looking for available co-working spaces in London via the WeWork network.
Hubble (hubblehq.com) is the largest online marketplace for finding and renting office space in London, for SMEs and startups. We have over 1,500 shared offices, co-working spaces, and private offices available to search, view and book directly through our platform.
You can search for specific features, for example, spaces that are more suitable for brainstorming sessions, for photographers and film makers, and so on. You may require a quiet space if you are working on an important client project, or if you want to discuss ideas you may prefer a space that is informal and welcoming. Why not, you may even want to have a yoga break in the middle of your work day: you can find a venue like Greenhouse in Highbury, for example, that offers exactly that.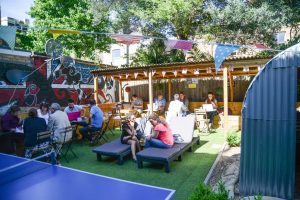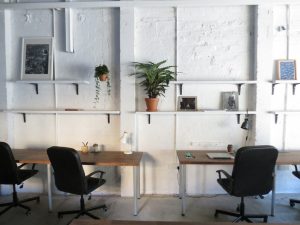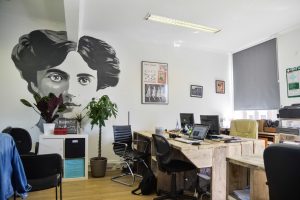 Nomad Space
Nomad Space has got the whole digital nomad philosophy spot on: they know the digital nomad culture and they know that freelancers want to combine freedom with a sense of community. Nomad Space is a platform for booking coworking spaces and meeting rooms.
The website allows you to browse available coworking spaces by price and location.
Premium Coworking Spaces in London
From hot-desking to having your own dedicated desk, premium coworking spaces are the option of choice if you are staying in London for a few weeks and want to maximise your time to be as productive as possible.
The Office Group
I visited The Office Group Bloomsbury building in Holborn. The location is very convenient as it's close to Holborn station. The Office Group manages 29 buildings in the UK and has 15,000 members at the time of writing.
The Bloomsbury building features a cafeteria (open from 8am to 4pm) on the ground floor and The Office Group owns three floors within the building that are dedicated to hot-desking, flexible office and fixed office space. Each floor also has lounge areas and a kitchen. If you don't fancy cooking, you can even order a take-away to be delivered at reception (because we all know that digital nomads and freelancers thrive on pizza!). A catering service is also available on request.
There are also lockers for valuables – if more storage is needed, it can be purchased at an extra fee.
Memberships include day access, monthly access or a 12 month contract. Membership allows access to all buildings managed by The Office Group. You can book a desk or meeting room at relatively short notice, but please be advised that if you want to use either the Bloomsbury building or the Shard you will need to give at least 24 hours' notice.
The Bloomsbury building has a number of meeting rooms: the largest can accommodate 28 people boardroom-style or 50 theatre-style.
Members receive discounts on meeting room bookings. The Office Group has an app to help members connect with one another and share skills and information about their business activities.
This venue is ideal if you want to impress an important client: the interior design is stunning with some unique art pieces and stylish furniture.
Members include freelancers and start up in various industries like marketing, media, pharmaceutical and more. Lounge areas are great for brainstorming and networking with like-minded people, but if you need a quiet corner you can use the allocated booths, ideal for Skype meetings and for recording podcasts.
Atmosphere
You can describe the atmosphere as a mix between visiting a sophisticated friend's house and a media agency's office. There is a nice balance between carefully planned interior design and comfort, with the added bonus of plenty of natural light.
Prices
£50 plus VAT a month for a virtual office including post handling
£50 plus VAT a month for drop-in working including 32 hours to be taken in whichever chunks of time you prefer
£300 plus VAT a month for hot-desking
£550 plus VAT a month for a dedicated desk
enquire for a dedicated office
Also, keep an eye for introductory offers on the website (for example: one month free for co-working if you sign up for 3 months. Offer ends May 31st 2017).
http://www.theofficegroup.co.uk
WeWork
I visited the WeWork co-working space in Devonshire Square near Liverpool Street station.
Of all the venues I visited, WeWork is the largest co-working company in terms of membership (more than 100,000 members at the time of writing) and in terms of global reach with more than 130 locations around the world (156 locations announced so far in the US, South America, Asia and Europe).
You can choose from a day membership, a monthly membership or a long term contract. Membership grants you 24 hours access to your home building and you can use any WeWork locations. This is particularly useful for international travellers who are visiting different countries and need a co-working space to allow them to run their business on the move.
All the WeWork buildings have their own cafeteria and infused water, tea, coffee and beer are included in the price of membership. If you buy a monthly membership you can also use the office printers. Private phone booths are available for Skype or phone calls.
Membership plans:
Flexible
Hot-desking
Dedicated desk
Private office
WeWork's membership offers many perks, including events and the WeWork app.
Events at WeWork include networking events, industry-specific talks and even workshops and training. In fact, if members request that they would like to learn a specific skill like coding or a foreign language, WeWork will act on the feedback and organise an event accordingly.
The WeWork app gives members the flexibility of booking a desk on the move or without having to contact the office. You can see at a glance which meeting rooms are available, for example if you are organising a meeting with an important client, and, most importantly, you can access the Community section where you can find a noticeboard featuring freelance projects from fellow members that you can bid for.
Atmosphere
The communal area by the cafeteria is relaxed and welcoming and in the evening it transforms into either a bar or an events/workshops space.
Prices
We Membership from $45 per month (UK price TBC)
£200 a month for hot-desking
£300 a month for a dedicated desk
£660 a month for a dedicated office
Work.Life
Work.Life has three venues at the time of writing, with more planned to open, including a venue in Clerkenwell in partnership with Verizon. The largest venue is in Bermondsey over four floors and I visited the space in Camden.
Work.Life has a clear focus on members and creating valuable working relationships, while supporting work/life balance through offering services like yoga and social events (e.g. beer and pizza on Thursdays). Something I haven't seen in other co-working spaces is the shower facility: many Work.Life members travel by bike and having a shower makes a difference. There are also lockers for valuables at an extra charge.
The ethos of Work.Life is making members look forward to coming to work. The aim is to make them feel relaxed and welcome. Member feedback essential to ensure all services can be tailored to members' needs.
The décor is a mix between an industrial office and a university campus, with quirky artwork in the hot-desking area supplied by an art company. The area for dedicated desks has pictures of famous rock stars on the wall, including Camden local and legend Amy Winehouse.
Membership:
Private offices
Dedicated desks
Hot-desking
Included in the price are fruit infused water, tea, coffee and snacks like jelly beans, pretzels and nuts. You can bring your own food and warm it up in the kitchen.
Members come from different types of industries including:
Technology
Digital marketing
Translation
Copy writing
Legal
Pharmaceutical
Recruitment
Finance
Insurance
If you are a commitment-phobe or only need to use a co-working space for a few hours a week, you can choose the pay-as-you-go option. You get your own smartcard and tap in and out, so the system will automatically calculate the time you spent at Work.Life and charge you by minutes used. You will get a daily invoice.
At the time of writing there are about 85 members in private offices, with companies including Dr Martens which also have their own showroom.
Atmosphere
The campus-like atmosphere is very conducive to focused work and is ideal for digital nomads and freelancers who travel and need the flexibility.
Perks include coffee, breakfast, standing and sitting desks, free access to meeting rooms (depending on price plan), networking events and yoga classes.
Prices
Hot-desking charged by the minute (pay-as-you-go) from £3.50 plus VAT per hour
£25 per day for hot-desking (plus VAT),
£250 (plus VAT) unlimited hot-desking per month
£365 (plus VAT) per month for a dedicated desk
CitizenM Hotels
CitizenM Hotels have a number of meeting rooms available for hire.
See also the next session about free coworking spaces.
This hotel chain is digital nomad-friendly and offers meeting rooms on a day or half a day rate.
Prices
£200 for half day, £350 for whole day (including VAT).
https://www.citizenm.com/societym-bankside/book-a-room.htm
The Hospital Club
The Hospital Club is a hub for creative companies and individuals in Covent Garden and is the brainchild of Dave Stewart (Eurythmics) and Paul G. Allen.
While hot-desking is not available, there is plenty of workspace and meeting rooms within the building. Normally access is only available to members but if you book one of their bedrooms you can use their workspace for free. The added bonus of staying in one of the bedrooms is that you can also enjoy the amazing restaurant (which I reviewed).
The building features a screening room (your private cinema) and a TV studio, as well as bars with DJs.
Prices
£ 850 annual membership plus £250 joining fee (£515 for under 30 years old).
Non-members can hire out a meeting room from £400 plus VAT for half a day.
Atmosphere
The Hospital Club has a nice buzz, great décor and cool people to hang out with. Also worth going for their regular events featuring the best talent in the creative industry.
http://www.thehospitalclub.com/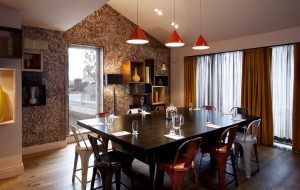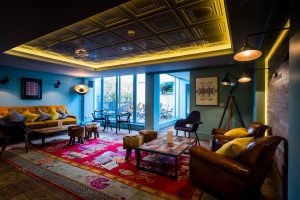 Free Coworking Spaces in London
Finding free spaces where to plug your laptop and work on projects can be a bit of a gamble in London, but it's worth trying these venues.
CitizenM Hotels
If you can deal with the uncertainty of not finding a spare desk, you can try your luck getting a table in the lobby of one of the CitizenM hotels in London. CitizenM was recommended by BaselineLabs, who told me that the hotel lobby in Southwark is rather quiet and can be a good place to work at your computer for a few hours, as long as you get at least a coffee.
YouTube Space London
If you are a YouTuber with more than 10,000 subscribers you can use the YouTube facilities for free (booking essential). Not only you can access their Café, which offers unlimited drinks and snacks: you can also use the state-of-the-art studios with the latest video equipment. While it's not easy to become a popular YouTuber, if you did manage to gain enough subscribers it's worth paying the YouTube Space in London King's Cross (see my review).
https://www.youtube.com/yt/space/london.html
Camden Collective
While technically this venue is not intended for digital nomads, if you are a small start up and need office space, Camden Town Collective offers free hot-desking for either creative pre-trade start-ups or creative start-ups during their first six months of trading.
They also offer offices to rent below market price thanks to subsidies from a private/public partnership. If you are interested, you need to send an application, which will be evaluated according to specific selection criteria. Your company doesn't need to be local to Camden to apply for workspace.
Collective is supported by the following organisations:
The Mayor of London's High Street Fund
Camden Town Unlimited
Their hub also offers small meeting rooms for short meetings of 1-6 people and a large boardroom that fits up to 20 people.
http://camdencollective.co.uk/
Barbican Centre
The Barbican Centre will always be labyrinthine, no matter how many times you go there. However, once you find it and find the right spot, you can sit down in a quiet corner to do some work for a few hours. At times it will get busy just before a performance so if you want to go there aim for the morning and early afternoon.
The Barbican Centre is a cultural hub with art installations, music concerts, theatre and cinema. In a way, you can combine work and entertainment as you can check the programme of events while you are there and plan your evening after you finish work.
Co-working Spaces in London: The Verdict
London attracts many digital nomads, freelancers and entrepreneurs and offers inspiring spaces where you can work, network and learn. Depending on your time and budget, you can find a place that you can call your own, even if it's just for a few days. The places I visited were all very welcoming and professional and I know that if I ever need to hire some office space I will have some great options lined up to choose from.