Irish Public Transport Travel Hacks – Travelling In and Out of Dublin
If you are travelling around Ireland and don't want to hire a car, you need to do some homework first before boarding a train, bus or tram in Dublin and beyond. Here are some Irish public transport travel hacks to get you from A to B in the cheapest way possible.
Irish Public Transport Travel Hacks: Travelling in Dublin
Although Dublin is a modern European capital with an estimated 1.8 million residents (source), its transport system still needs to catch up with the demands and expectations of metropolitan and international commuters.
There are two ways you can travel around Dublin, and you will likely need at least two to reach your destination:
The cheapest way to travel is to buy a Leap Card instead of paying cash, because it gives you a saving of about 20%.
Some areas of Dublin are more difficult to travel to, as there is no direct connection, for example, between the North West and the North East of the city. This means you need to travel into the city centre first then travel out again in a different direction. If you have ever lived in London, you will have experienced something similar if you ever wanted to go, for example, from Hampstead in the North West to Alexandra Palace in the North East of London.
The East-West problem doesn't stop at Dublin, as it's also quite common in the rest of Ireland.
Another factor you need to consider is that each transport system works in isolation, with different fares structures. For example, the daily capped fares on a Leap Card vary according to the mode of transport: it's 6.40 euro on the LUAS but 9.20 euro for rail or 10 euro for rail+bus or rail+LUAS. To understand the pricing structure, have a look at the fares calculator from the Rail Users Ireland website (select the fares calculator in the left side menu).
Finally, to save some extra money, remember to travel off-peak, i.e., after 9.30am, on a weekday for reduced fares.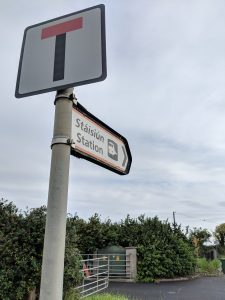 Irish Public Transport Travel Hacks: Travelling from Dublin
You have a choice of:
depending on where you are heading.
Buses tend to be slightly cheaper than trains, but not that much, and will take longer, with a few exceptions.
Buses may also be more frequent than trains, particularly in areas such as Wicklow.
Please note that seats on the bus are allocated on a first come, first served basis: even if you book online, but at the bus stop there's a long queue of people, the driver may turn passengers away if there are not enough seats.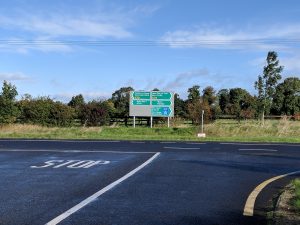 B
É

Club Bus Travel Loyalty Scheme

After a month of travelling by bus, I decided to sign up to the BEClub loyalty scheme, which gives you one free bus journey after you have collected enough points. At the time of writing (2018), you collect 10 points for every euro you spend, so, for example, after you have collected 1,000 points you can redeem them to buy a ticket worth 10 euros. In the welcome email you receive it says "BÉClub is all about rewarding you for using our service".
Leap Card Hacks
If you have the option of using the Leap Card on a train instead of paying the cash fare, you will notice that you might be saving even more than the advertised 20%. I have noticed this when travelling on the DART line, which has a peculiar system to calculate Leap fares.
Example

I once travelled from Raheny to Dublin Pearse and it cost me 1.81 euros on the way out, but only 0.81 euros on the way back. I had also used the bus (1.50 euros) and travelled for one stop (1.81 euro) on the DART earlier that day using my Leap Card.
Travelling from Dublin to Howth is a lovely day trip and it's very cost-effective on the DART.
Combined Bus and Train Travel
Before booking a return train journey, check if you can swap part of the journey for the bus, as it can work out cheaper.
Example

You can take a day trip to Gormanston by the sea from Dublin Connolly, about an hour journey north of Dublin. A return train ticket will cost 18.38 euros when booked online (11.35 single cash fare), however, if you split the journey and take the bus from Balbriggan to Gormanston the overall fare will be much cheaper. In fact, a bus return ticket is 4 euros online and a train return ticket from Connolly to Balbriggan is 12 euros when booked online. Although saving 2.38 euros may not seem much, when you are travelling every day these fares add up, and you realise that transport is quite expensive in Ireland. Also, if you consider that the cash fare to travel by train from Gormanston to Balbriggan return is 10.90 euro or 6 euro for a 4 minute single journey (online 5.39 euro), you can see that the price is disproportionate to the distance covered.
The Journey Planner May Not Be Your Best Friend
The journey planner from Transport for Ireland can be hit and miss. It can give you some options for travel but be aware that it may not cover all the options. The most useful features of the planner are the estimated time it takes to go from A to B and the estimated fare. However, also check the individual websites for Irish Rail and Bus Eireann (or other bus companies) as they may be running services that are not listed on the planner.
Sometimes Buses Are Best for Long Distances
While on paper a journey from Dublin to Wicklow Town is not too long (about 66km and one hour by car), in reality you need a few hacks to make the most from your available time and money. The train takes about 1 hour 15 minutes and costs 6.89 euro for a single journey online.
There are only five trains a day going to Wicklow and they ran every three hours on average. The last train back from Wicklow to Dublin is at about 7.15pm, so if you had planned to go out on a day trip but you missed that train, you will need to find an alternative route or stay in Wicklow.
Example

I was recommended the Wexford Bus service, as it's more frequent than the train. A single ticket booked online from Dublin to Wicklow costs 10 euro and takes one hour, with services running approximately once every 1.5-2 hours on average (9 journeys per day starting at 9.15am and ending at 23.15). Although you are spending more using the bus compared to the train, in the long run you are saving time, as you get more options.
Crossing Ireland
So you want to travel from County Kildare to County Wicklow? I discovered that there is no direct route. In fact, you have to travel to Dublin and then back out again, which adds hours to what should be a straightforward journey on paper.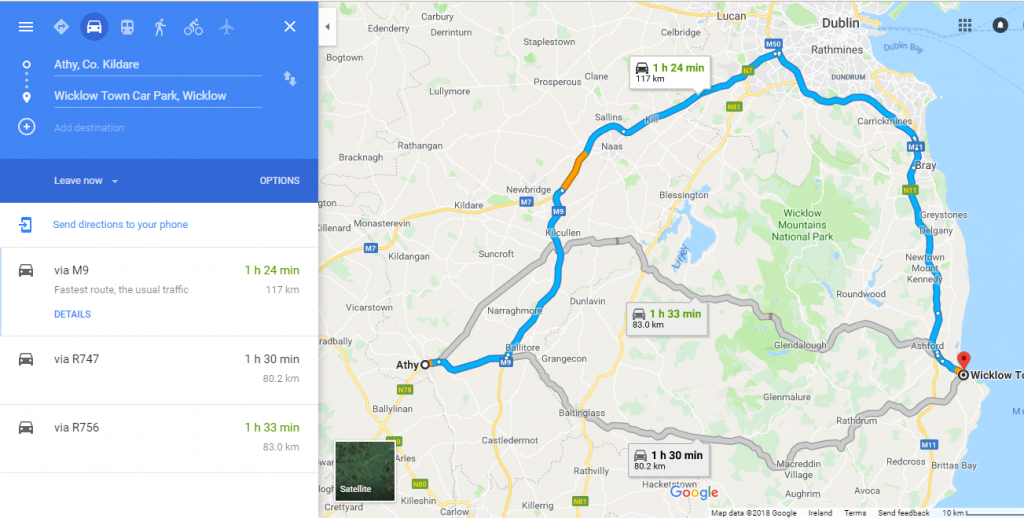 Example

I was staying in different Airbnb places and I had to travel from Athy in Kildare to Wicklow Town in Wicklow. When I booked my accommodation I didn't check in advance what public transport options I had. Looking at the map, I simply assumed that there would be a service going from the South West of Dublin across to the South of Dublin. I was wrong.

From Athy I took the train to Dublin Heuston (about 50 minutes, 8.99 euro online). From Dublin George's Quay opposite Customs House I took the Wexford Bus (about 1 hour). With waiting times the overall journey takes about 3 hours. Travelling by car (about 86km) would take 1.5 hours.
Time Is Money
If you are a digital nomad you may not have much spare time to travel between locations. This is particularly true when you are working on an important client project and you need to be contactable.
Another factor to consider when travelling in Ireland is the availability of free WiFi on public transport. While in theory buses and trains offer this facility, the signal can be patchy. Do some trial runs to make sure you are covered throughout your journey. From my personal experience, I have found that Irish Rail has the weakest signal, if you ever manage to connect to their router, while Dublin buses have the strongest and most reliable signal.