Artist Co-Working Studio in Dundalk, Ireland: Bridge Street Studios
Following Instagram hashtags can be extremely effective for discovering new talent: musicians, painters, film makers can all be found with the right tag. I came across the work of ceramic artist Sarah McKenna by chance on Instagram and then discovered the artist studios at Bridge Street.
Artists Need Space
Unlike other freelancers or entrepreneurs, whose requirements mostly consist of a plug for their laptop and a good WiFi connection, artists need space to create and exhibit their work. Large spaces come at a premium, so the solution is to share them. This solution also develops a community of like-minded people where you can share knowledge and skills (and a cuppa).
I visited the Bridge Street Studios in Dundalk, Ireland, an art gallery and artist studio that has been in business for the past 25 years, and spoke to a few of its denizens in their "natural habitat". The building was formerly an 18th century grain store. Having worked in offices for 15 years, I must say that bursts of spontaneous laughter were few and far between; however, this was not the case at Bridge Street Studios, where the atmosphere is relaxed and friendly (with an abundance of laughter).
Sarah McKenna, Ceramic Artist
Sarah McKenna started working with sculpture at the Bridge Street Studio in 1999, and about five years later she started her tableware range. Called Impressed Range, Sarah's pottery and homewares consist of platters, vases, small plates and cheese boards in four colours. In the Bridge Street Studios promotional brochure she describes her pottery as "a reminder of joy once known, linking memories, sentiment and nostalgia".
When I was talking to Sarah, she told me that she takes inspiration from her day-to-day life: for example, she realised that she needed a cheese board, so, instead of buying one, she made one from clay with her signature pattern. Now it's part of her Impressed Range. Another example is her slim profile vase, which was designed for people who may not have enough space so it fits snugly on a shelf. Cocktail party? Her small plates have an ergonomic design so they are easy to hold. Her creations are both stylish and practical.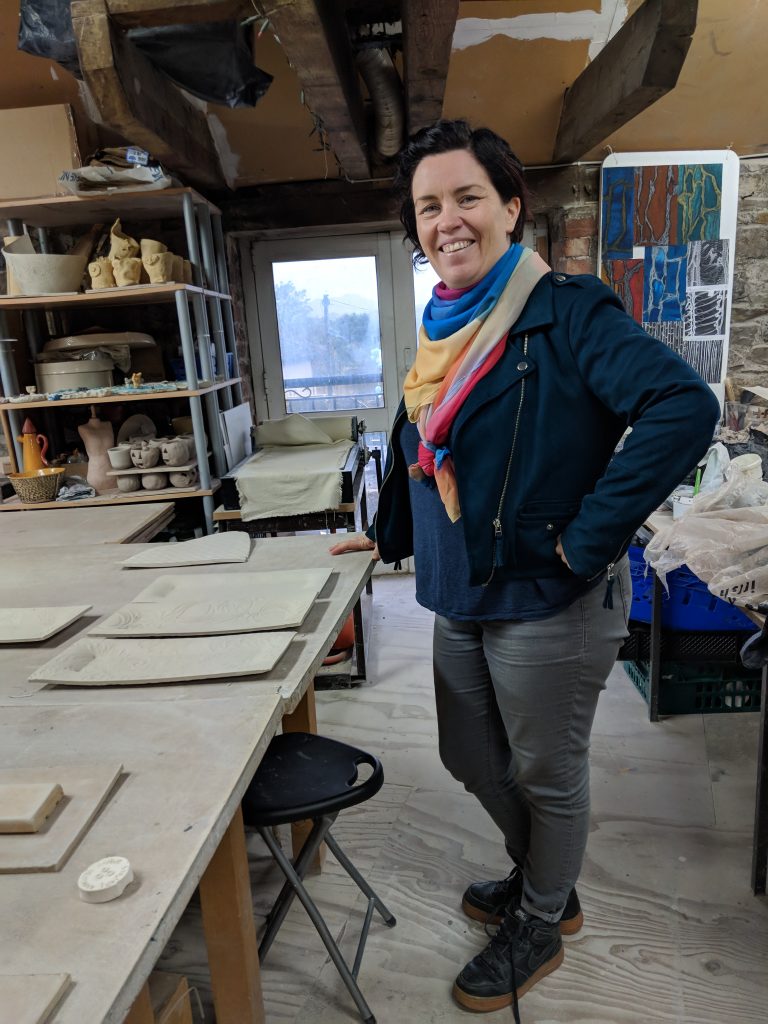 Home Comforts and Rainbow Tiles
The Home Comforts gift range started with decorative tiles for the home with simple line drawings, and then evolved to include inspirational phrases to evoke feelings and memories, or sometimes old rhymes. It's all about creating a homely and welcoming environment. This range now also include tea light holders, vases and bowls.
Rainbow Tiles are decorative gifts and wall art pieces to inspire and uplift. They can also be personalised with your own message. In fact, they are popular wedding gifts: for example they can feature a line from the first song the bride and groom dance to at their wedding.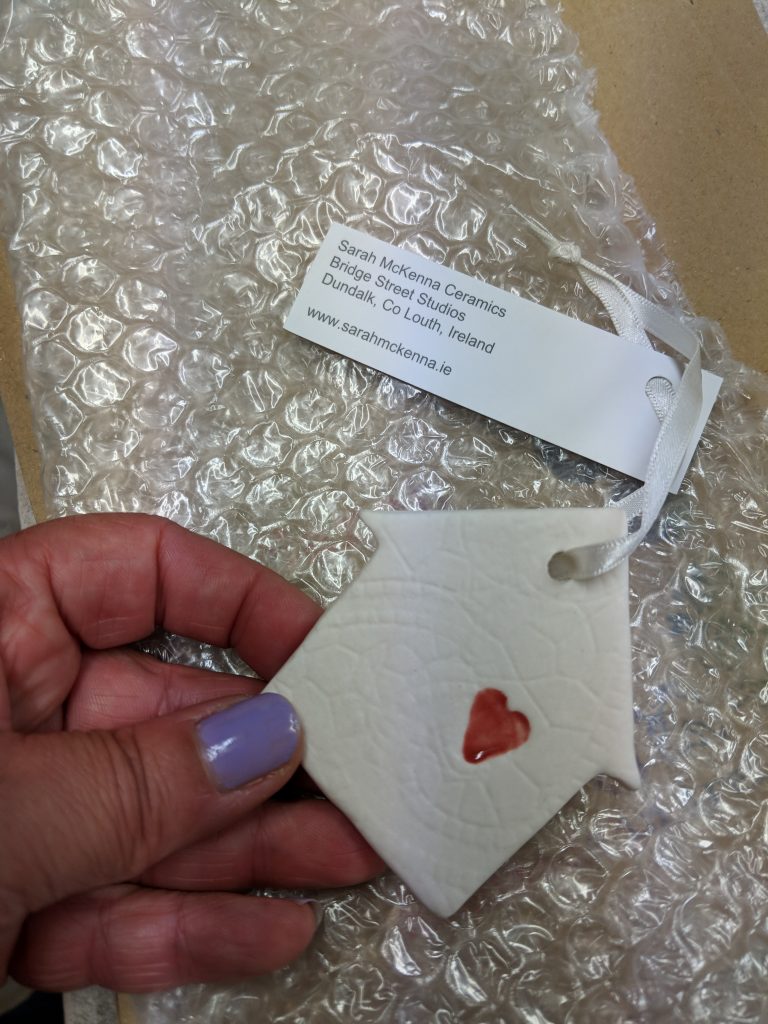 Artist at Work
Sarah also showed me the workshop on the top floor with the kilns. She uses a latex pattern backed with muslin to add texture to the clay and impress her designs. The pattern is transferred onto the malleable clay on the front and back, and then placed into wooden dormers to take shape before finishing at the kiln.
Orlaith Cullinane
Orlaith Cullinane is a figurative painter who creates beautiful imagery, mostly portraits, inspired by classic Flemish painters and contemporary artists. In fact, she takes inspiration from artists such as Portuguese painter Paula Rego, who is all about muscular paintings and drawings, a figurative style hinting at fairytales. Then, further inspiration comes from David Begley, who works with charcoal to create atmospheric drawings; Vermeer and Rembrandt for their striking use of light and shadow; and finally, Bruegel, among others. She describes her work as making "transfiguring every day moments by capturing and evoking movement, gesture, expression and chance symbolism through intense drawing studies from life".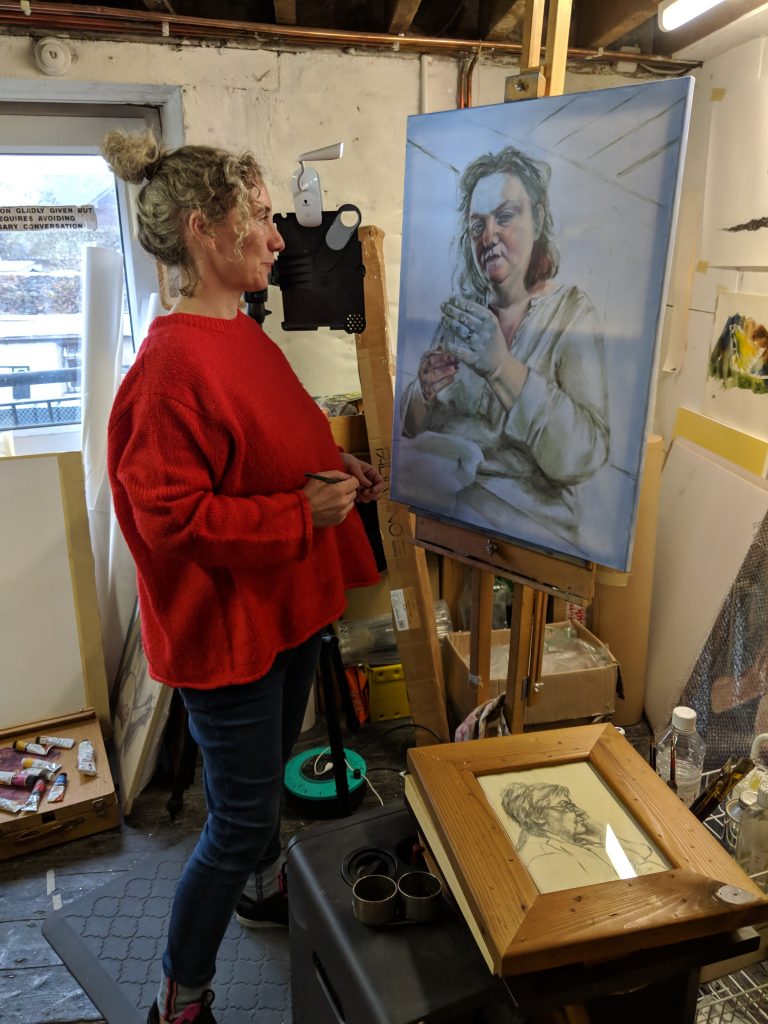 She can take commissions and you can find her work both at the studio and online at Saatchi Art, where you can order prints from her paintings. She also exhibits at An Tain Gallery, Dundalk's art centre, where they have a permanent exhibition.
Orlaith has been doing a drawing a day for the past year, and she showed me her sketchbook. She has been sharing her drawings on social media, inviting others to join in and draw each day, too.
Orla Barry
Orla Barry is a painter who prefers working on smaller canvases, as they are easier to complete and to market, however she has also worked on large canvases, very occasionally for commissions. She prefers to express her individual style in beautifully crafted acrylic paintings featuring animals, nature and stylised patterns. The result is pure fairytale, dreamlike, vibrant imagery inspired by nature, symbolism and surrealism.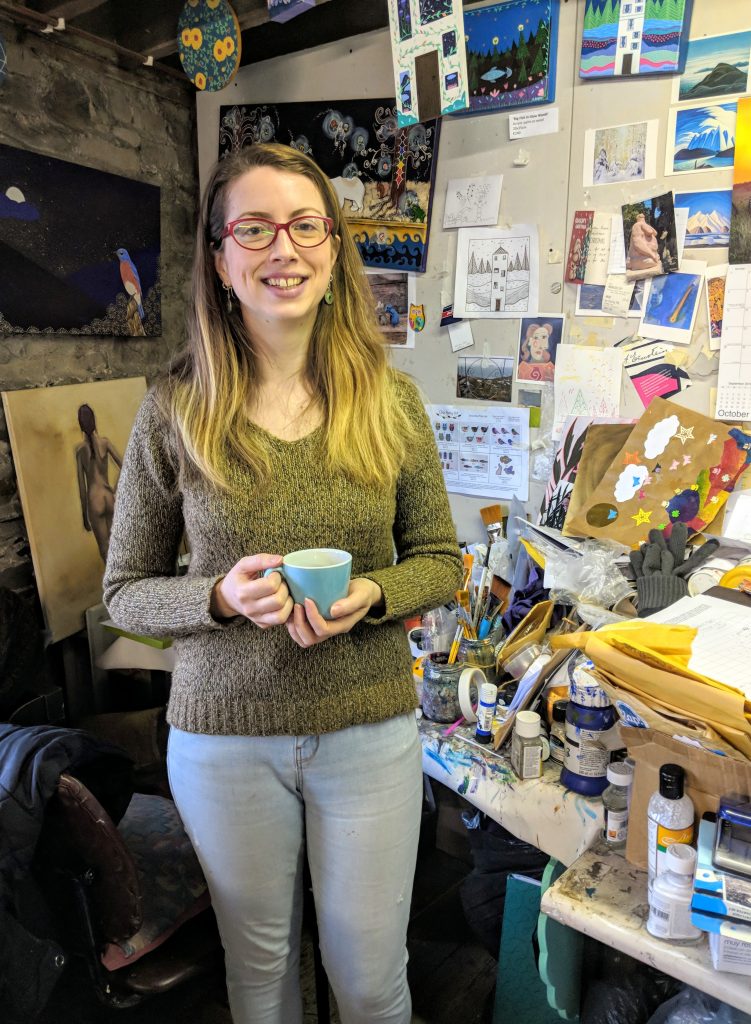 She has been working at Bridge Street Studios since 2008, which she describes as good base to showcase her work and share knowledge with other artists.
Her prints, greeting cards and brooches are for sale and you can see some of her work on display at Listoke Art Gallery.
Caoilfionn Murphy-O'Hanlon – Cushla of Gullion, Felt Maker
Caoilfionn Murphy-O'Hanlon works with different types of textiles, natural materials, upcycled fibres and wools. A trained milliner with a degree in journalism, she crafts stunning hats for special occasions, but also weaved mandalas, which she teaches how to make in her workshops. She showed me one of her works in progress, a leather cocktail hat with a moulded structure reinforced with thermoplastic. Her work is seasonal, so she is busy making hats in the summer and wool creations in the winter. Then, she explained to me the process of creating a mood mandala using wool.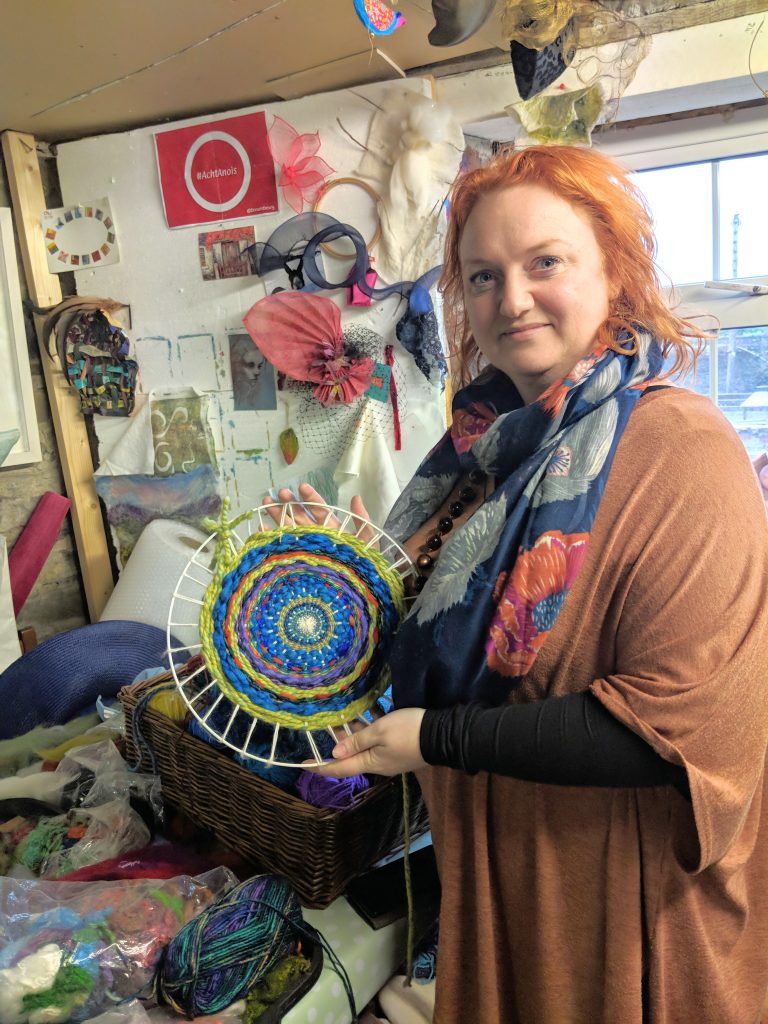 The concept of the mood mandala is to use colours to represent emotions and memories, so you are literally weaving your own story and you can look back at it not only to admire it but also to reminisce. Because each memory represents a colour, the concentric pattern reads like the rings in a tree after you cut it. In fact, her work is influenced by landscape, with a strong presence of her beloved Slieve Gullion mountain, from which you can see seven counties; it's shaped from volcanic rock and is the birthplace of many myths and legends.
When she is not working, she relaxes doing creative writing, and storytelling is very important in all aspects of her life.
Visiting Bridge Street Studios
The studio space is open to the public every Saturday. It is worth a visit if you enjoy art or if you are an artist yourself. This treasure trove of a place is welcoming and inspiring, and you may end up buying presents (like I did) or get some beautiful art to hang on your wall.
Bridge Street Studios also offer painting, photography and felt making classes for children and adults.
Visiting or booking some time at a co-working space can be a great way to do some business networking in an area you are travelling to, read for example this article on how to connect to local businesses.