The Remote Job That Didn't Pay a Salary: OK Bye
Twitter is always a great source of information, especially for remote workers. One job vacancy was trending for all the wrong reasons. The tale of OK Bye's remote developer job in Bali.
OK Bye Remote Working Vacancy
"Imagine..you could stay and work for free in a perk-filled villa in paradise among the most talented developers and designers, in exchange for a few hours a day agency work for inspiring brands.
Currently we're only looking for people to join us remotely. Instead of paying traditional salaries, we take care of everything. You'll work on the most fun job, join a community of passionate innovators, live in the dreamiest house and eat delicious food, while never worrying about logistics.
We are looking for.. a talented Vue.JS Front End developer to join us either 1-28 February, or 1-31 March in Bali or remotely. We're building the sequel of this synthesizer web game for Red Bull Mind Gamers."
Danish programmer David Heinemeier Hansson, creator of Ruby on Rails, spotted this vacancy and shared it with the world for comment.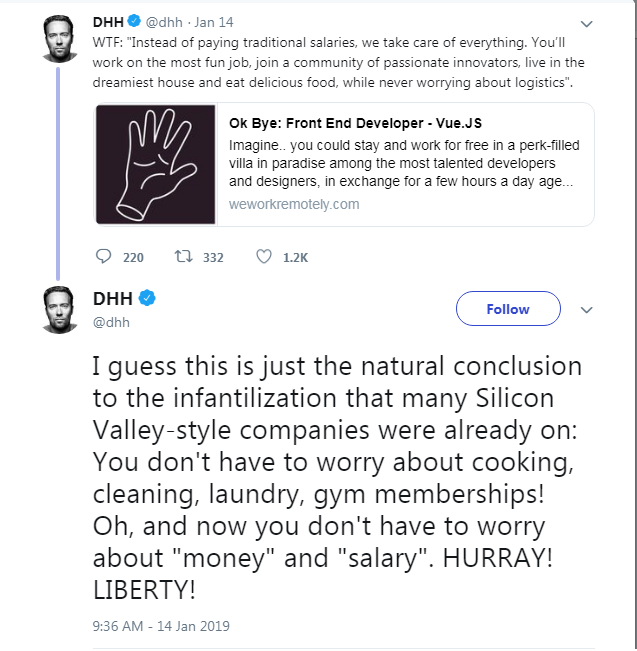 There were some very interesting comments on Twitter about the infantilisation of workers and the word "slavery" and "feudalism" were thrown into the discussion. The word "cult" was also banded around a lot.
It was also insightful that the https://okbye.io/ website crashed as a result. Someone on Twitter commented: "This is what happens when you don't pay your devs!"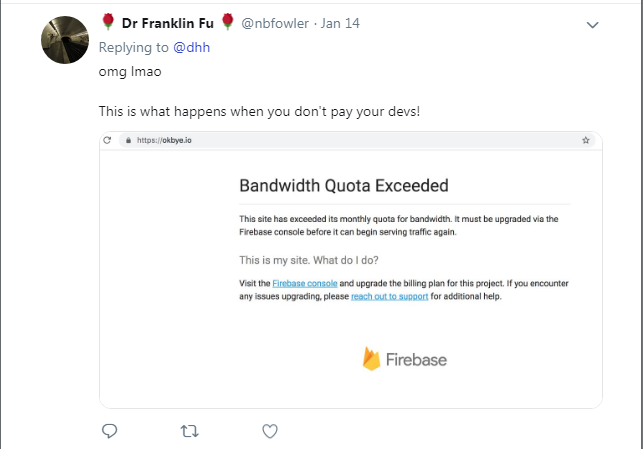 It has since been restored with a very simple home page and no information about the company.
Since then, the vacancy was "magically filled" or, more likely, deleted from We Work Remotely's website.
"Job listing not found
The job listing you were looking for doesn't seem to exist anymore. Job listings expire in 30 days. It's possible that the job listing has expired, or it has already been filled." https://weworkremotely.com/remote-jobs/ok-bye-lead-product-designer
Internships and Free Work Experience
Surely the company could have advertised the job post as work experience. Even then, developer jobs command high salaries and developers are in high demand.
The thought of spending one month in Bali working on a short term project is not a good enough incentive, especially if you are a digital nomad and you are likely to turn paid work away.
There are programmes for work experience in exchange for free accommodation (see previous article) and they are geared towards young people who want to do some volunteering while travelling. Advertising an internship or volunteering post as an actual remote working job is a step too far.