Accepting International Payments: Monese Bank Accounts
Receiving payments from international clients as a nomadic freelancer or location-independent entrepreneur can sometimes be an issue, particularly when it comes to banking running costs like transaction fees and exchange rate.
Accepting International Client Payments While Travelling
As a location-independent freelancer or entrepreneur, you need to make sure you collect client payments while travelling in a timely, safe and cost-effective manner. Paypal is often the easiest option to get paid online, but transaction costs can eat into your profit. Skrill and Stripe are also very popular payment options for freelancers, and they charge transaction fees.
Wire transfers attract banking fees, but for large projects those fees are reasonable.
New banking models are emerging to cater for those customers who want to keep costs down but who also don't have a permanent residence in one country.
What Is the Best Way to Accept International Payments?
There is no overall best way to accept international payments, as each payment provider will offer different types of packages and related charges. The key is to find a provider that offers a service that is best suited to your needs.
You could set up an international bank account but first check what types of requirements are necessary to open an account, for example whether you need to be a resident of the country where the account is held. However, the biggest hurdle to opening international bank accounts is the minimum deposit required, typically £25,000 in the UK. Monthly charges can also be quite high for these types of accounts.
You can find an analysis of different types of payment services for freelancers in this article.
Monese: UK Individual Bank Accounts
I had a twitter and email conversation with Monese, providers of UK individual bank accounts via mobile app. Monese launched in September 2015 to offer an alternative to traditional bank accounts to UK and EU customers. Monese is registered by the Financial Conduct Authority and was awarded more than €1.1 million by the European Commission (CORDIS, Community Research and Development Information Service, see project) to offer bank account services to an estimated 3.5 million mobile EU residents, 22 million customers who never applied for a bank account and those on an irregular income.
Customer funds and data are held in secure accounts in European banks.
Opening a bank account with Monese does not require you to be physically located in the UK, to be a British citizen or to have a stellar credit score. With Monese you get a UK bank account and sort code to receive payments, send cash abroad and make card purchases, both online and in physical stores, including contactless transactions.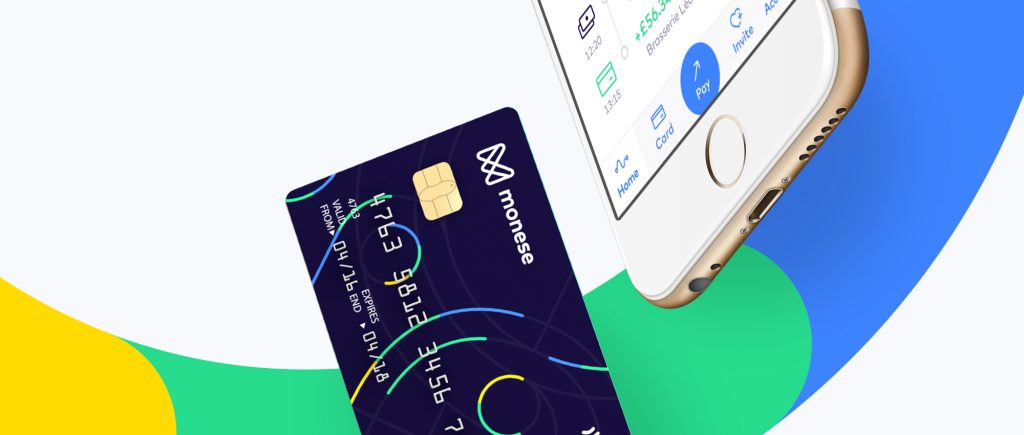 Monese customers can manage two bank accounts in two currencies – euros in a European IBAN account and pound sterling in a UK account. To accept foreign payments, Monese supports IBAN transfers from the EU into a Monese account at the mid-market rate. The currency exchange rates come bundled up with your current account and are calculated on a wholesale (interbank) exchange rate plus a 0.5% fee. There is no overdraft as such but if you accidentally go overdrawn you won't pay additional charges. Any deposits made afterwards will be net of any overdrawn amount.
The key driver for Monese to offer UK bank accounts via a mobile app was to cater for those who wouldn't normally be offered a bank account because of no credit history, poor credit history or because they are not resident in the UK. In other words, there is a whole section of potential customers that weren't being served by traditional banks. Another important factor for Monese was to offer global on-demand banking, starting by allowing customers to send money to friends and family abroad at low cost.
At the time of writing, Monese bank accounts are only available as individual UK current accounts, with plans of offering business accounts in the future.
Features
You open your UK bank account via the Monese app, available for iPhone and Android. At the time of writing, online banking is not available.
There is a monthly flat fee (£4.95) and no fees for accepting payments in GBP and Euros or making purchases with a Monese debit card. If a transaction does involve currency conversion, Monese uses the wholesale exchange rate and only charges 0.5% of the transaction value. This means it can be up to 8 times cheaper than using traditional banks.
Non-GBP card purchases and ATMs withdrawals attract a 0.5% currency exchange fee. Direct debits and standing orders are not yet supported but are planned to be introduced in the summer of 2017.
An important factor to consider when opening a bank account is identity verification.
Monese accepts applications from any EEA residents and you are not required to live in the UK to open a UK bank account with Monese. The verification process is completely automated and should take as little as 120 seconds. All you need is a picture of your ID, a passport or National ID, and a selfie. If there is a problem with verification, you can contact Monese via email, in-app messaging and video calls, or by submitting further proof of identity (like a utility bill).
You can still open a basic account within minutes without going through the verification process, but the bank account will have strict limits on how much money you can deposit and withdraw, plus there will be thresholds for the amount you can withdraw at ATMs and what you can spend on your card.
You manage your money and get statements via the Monese mobile app.
Payments are deposited on the same day (if your client chooses Faster Payment, even at weekends), otherwise within three business days (if your client makes a BACS payment).
You can find more information on the Monese FAQs page.
Monese Online Reviews
Good news: at the time of writing, Monese has a rating of 8.6/10 on Trustpilot.
Monese are very active in the community, answering questions from customers and providing advice when needed.
The Verdict
If you are a freelancer operating as a sole trader, then you can take advantage of a payment facility like the individual bank account offered by Monese, as long as you keep your personal expenses separate from your business expenses (usually, the best practice is to have to different accounts).
If you are running a limited company then you are better off investigating business banking with a different provider. Some banks offer fee-free banking for the first six months to a year from opening, depending on terms and conditions.
Picture credits: Monese