Interview with Zbigniew Czarnecki, CEO at Apptension and teamdeck
Read about a remote employees success story: Apptension and teamdeck.
When was Apptension founded? What inspired you to do start a company?
We founded Apptension in 2012, in Poland, as a software development company.
Together with my current business partners Artur Gutkowski (COO) and Michał Kleszcz (CTO), we've successfully participated in a few hackathons. After that, we thought that it might be a good opportunity to start our own company. Conveniently, we've won a three month rent in a co-working space as a prize in one of these hackathons, so one could argue that it was meant to be.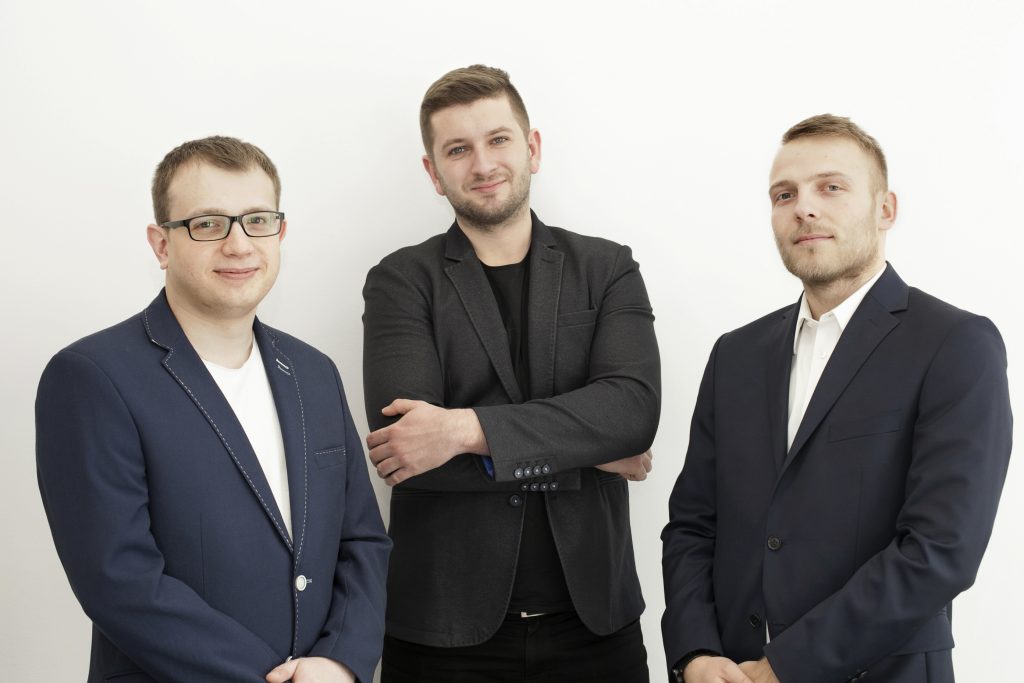 Apptension founders (from left): Michał Kleszcz (CTO), Zbigniew Czarnecki (CEO) and Artur Gutkowski (COO).
We wanted to work with top players in the digital industry, build branded web apps for the world's best agencies. Slowly but surely, we've managed to secure project after project and often one job has helped to open the door for another. Today we work for agencies, production companies and startups from Europe, North America and Asia, helping them to create outstanding, award-winning digital products.
Tell us about your most successful project to date
I would say, it depends what is the measure of success – for us, it's a project delivered on time and budget that helps our client's business to prosper. This is also the default deliverable for each project team here. There are a lot of small wins that we celebrate at Apptension with each release.
Recognition is a big deal for us, of course. We've had an opportunity to work on projects, that won us several digital industry awards, including Cannes Lions, FWA Awwwards.
How can businesses outsource their web development successfully?
Successful website development outsourcing relies mostly on finding a company that can provide the tech-stack required to deliver a project, experienced employees and has the right communication standards.
When searching for an outsourcing partner, reviewing a given company's website, portfolio, social media and GitHub profiles will tell you how experienced they are, what kind of projects they do, what technologies they use. This should give you a better understanding whether they are a good fit to your project. You can also look for previous clients reviews – were they satisfied with this company?
After assessing these aspects, get in touch with this software house, send them a brief and evaluate their answer. Do they ask questions to better understand your requirements? You don't need a company that just nods. Great partner will try not only to meet your request, but will also suggest possible improvements based on their experience.
For us, the key to successful web development outsourcing is to build trust between the client and the software vendor.
What business development activities would you recommend to attract new clients?
We put emphasis on building strong relationships with agencies and producers we work with. We've figured that if we come across as a trustworthy and reliable partner, our clients will come back for more. This has proven to be true, to the extent that now we mainly operate based on referrals.
Obviously, we do engage in networking events and reach out to new clients. But the digital world really is a small place, where people collaborate with each other or move from shop to shop. This is why nourishing our present client relationships is always an imperative for everybody at Apptension who engages with the client at different points of project duration.
So the ultimate advice is: deliver an excellent service, come out of your ways and always be a facilitator to your clients, then go and grow the business on this solid base. Maybe the agency you really want to work with is unattainable today, but your next successful project and happy client may actually refer you there.
How do you adapt your company culture to cater for international employees?
We have Slack channels for internal communication and announcements, but we also created an internal space on Confluence, where everyone can find information about the company, current strategy, helpful resources and list of employees.
This is one of the reasons why we maintain an internal, biweekly newsletter called Transparency Update. We use it to share project and company updates, announcements and photos from the recent weeks, so everyone is up to date with what's happening at the office.
Knowing how hard it is sometimes to communicate online, with a lack of facial expression or gestures leading to misunderstandings, we use custom emojis and funny bots to add a personality that otherwise can be lost between the words. Plus, it makes our conversations cheerful and more personal.
We want to foster transparency at Apptension, because we believe that it helps with team building and increasing employees involvement in the company's life. It also makes it easier for both in-house and remote employees to keep up with company's life and to identify oneself with it.
What is Apptension's strategy to attract remote workers?
Remote employees reach us mostly through our website, that's why we pay a lot of attention to how we communicate our offer to them online.
We focused on creating a career page that thoroughly explains how we work, what are the benefits of working with us, what kind of projects we do and for whom we're currently looking. Then, we explain the whole recruitment process. The candidate can also download a Company Guide that consists of Apptension's history and values, so they can get to know us better before the interview.
We also pay attention to how we communicate our job offers on social media. We want to speak our employees' voice and let them know we understand their point of view.
At one point, we felt very tired and even agitated by the current IT recruitment trends. All these developer heroes, ninjas or rockstars used to sound quite funky but we have started noticing that our industry has absolutely exploited this concept and left these job titles empty slogans with no clear career path and job details behind.
We have spent some time trying to understand what candidates themselves find annoying about these job postings. The feedback was clear, they wanted to be presented with transparent requirements from their potential employers so that they can make a decision based on accurate information. It's especially important for remote employees, who appreciate clear and honest job ads, as they often don't get to meet the team in person to get a better grasp of their culture.
We've created an animated job ad, quite different from many of the posts programmers see on social media nowadays. Our ads stated one thing clearly: we're looking for a frontend developer. Not a ninja, not a rockstar: a solid frontend developer. The gif itself was accompanied with comprehensive job description. This campaign together with our HR strategy has definitely worked as we've not only got a lot of CVs but also got industry recognition.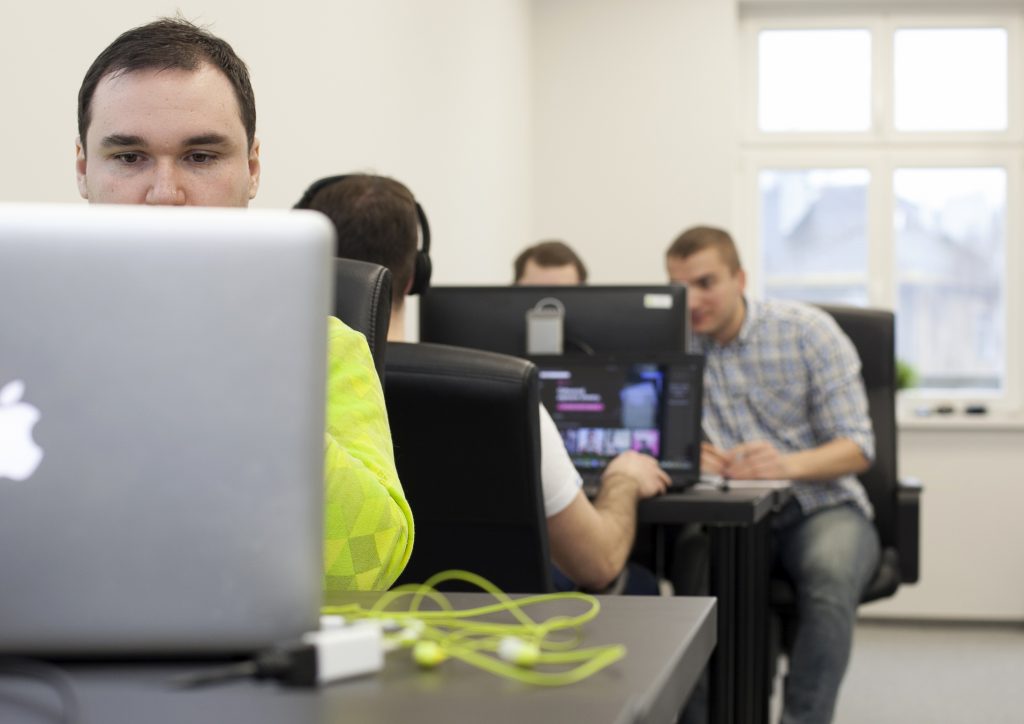 How do you measure employee satisfaction?
Officevibe is our go-to tool when it comes to keeping a finger on employee satisfaction.
The polls are anonymous, so we're sure that our team members won't shy away from answering them and expressing themselves about how they feel about the office environment, the amount of work or the scope of the projects.
We also have feedback sessions with each employee to evaluate their performance, but also to hear from them about how they find working at Apptension, what is it that they like about it and what they would like to change.
What productivity tools would you recommend to businesses working with remote employees?
The most important thing is to make sure that teams spread across different locations and time zones are able to collaborate on projects smoothly. We're using several tools that help us with communication, sharing files or scheduling tasks and booking employees.
Slack helps us with daily communication. We have an internal channel for casual conversations, one for the announcements, and different group chats based on employees activities and interests.
With G Suite, Google's collaborative tools, we're able to work on shared documents and files.
We also use Atlassian tools for planning and assigning tasks (JIRA), working on shared documents like project plans, product requirements, knowledge bases and documentations (Confluence) or as a version control system (Bitbucket).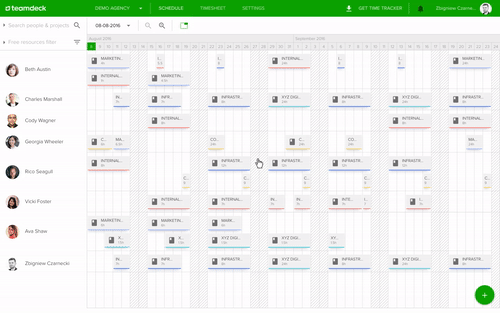 Last but not least, we use teamdeck to schedule resources for multiple projects, easily check their availability, plan and approve holidays and days off. We've been testing several tools but we couldn't find anything that would entirely answer our needs. That's why we developed it ourselves as a side project, which now has grown into a product itself.
How do you leverage social media to raise Apptension's profile?
Building brand's corporate identity on digital channels and keeping up with the latest tech trends is very important to us. We want our community to grow and expand so the world can hear about us. We believe we create something unusual at Apptension because we have built our company's culture on talent, passion and positive vibe.
Our communication on social media has many angles so we can keep up with all audiences. On blog and Medium we share software expertise, on Twitter and Linkedin we connect with people interested in tech and business, on Facebook on the other hand we run employer branding actions – these are of course just examples of our actions, but I believe it covers pretty much everything.
About the interviewee:
Zbigniew Czarnecki, CEO at Apptension and teamdeck. Mac lover and a total perfectionist. When he is the team leader you can be sure that every detail will be in the right place. If he hadn't become a developer he would have probably made a career in medicine or volleyball. Luckily for us, he became a programmer.