Interview with Freelance Conference Interpreter and Trainer Azucena Bermúdez Pérez
In this interview we feature professional conference interpreter Azucena Bermúdez Pérez, who has an impressive CV and brought a fresh perspective talking about the work of freelancers.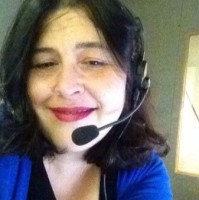 Q: How did you decide to become an interpreter?
I am from Spain, and after secondary school I moved to Ireland to learn English and then on to Paris to learn French, but I never had interpreting in mind; I didn't really know about the profession. My initial idea was to study Journalism.
For different reasons, I ended up studying History through a Spanish University while living in Ireland. This helped me improve both my Spanish and my English.
After graduating I was not sure how I wanted to use my degree. I taught Spanish as a foreign language and English as a foreign language for a few years and then I decided to go to Latin America. I have always felt inspired by some of the social justice movements there. So, when I was 29-30 I decided that it was the moment to go.
In the Dominican Republic I got my first taste of interpreting while volunteering as a development worker and English teacher in 2 small schools: one in a Dominican community and one in a community of 3rd generation Haitians working in sugar cane plantations. I was asked to interpret a number of meetings between funders and local community representatives, between funders and the local church leaders, etc.
Later, in Chile, I ended up working as a volunteer interpreter on an environmental expedition. We worked remote places in the Andes, and my job as an interpreter was to liaise between the expedition and the communities we came into contact with.
My time in Latin America was a steep learning curve and I came back home to Ireland highly inspired by the resilience and the fighting spirit of the communities I had visited and as a result I became involved with solidarity and activism here. But I also discovered that I had a knack for interpreting and that I was a good communicator. I felt comfortable moving between languages and speaking publicly.
Q: What did the role in Chile involve?
Representing the organisation in radio interviews; addressing local communities to explain our work in the area; interpreting in meetings between the organisation's leaders and the local communities; etc.
Q: What happened next?
When I came back to Ireland, I tried to find out if there was such a thing as an MA for Conference Interpreting here. This was May 1999 and it seemed there were none. Luckily, someone pointed me towards Dublin City University (DCU). I found out they would be starting the first ever conference interpreting MA in Ireland the following September. Wasn't that lucky timing! But I was also lucky because there ended up only being 3 students in the Spanish group: if one of us hadn't applied or hadn't been accepted the course wouldn't have gone ahead. The following couple of years only the French group went ahead and then the course closed down, so it was touch and go for me. It seems that the MA existed exactly for the time I needed it to exist!
As for breaking into the interpreting market, fortunately there was a translating and interpreting agency linked to DCU. At the time there we not many conference interpreters based in Ireland, so the agency was interested in recruiting interpreters graduating from the MA. They started to give me some work, testing me out in the first few jobs but very soon assigning me to more difficult jobs such as medical conferences. Soon I started to get work from other agencies also and the work load increased. I've been working as an interpreter ever since.
In 2007, Irish was upgraded to an official and working language in the European Union. That meant that interpretation into and from the Irish language would have to be provided for some EU meetings. Suddenly, there was a need to train Irish conference interpreters. The National University of Ireland Galway MA in Conference Interpreting was set up in 2008. Initially, the MA was delivered in the Gaeltacht, the Irish-speaking areas in the west of Ireland. Later, it was moved to Galway city where it still takes place.
In 2013 I became an external examiner for the course. Later, in 2016, a vacancy for an interpreter trainer came up and I've been working there ever since training conference interpreters for the European Union and for the private market. The job allows me to continue to interpret, so I can combine both. Also, having active interpreters as trainers is of benefit to the students, of course.
Q: How do you market your work as a conference interpreter?
A: My main professional presence online is on LinkedIn. (See Azucena's LinkedIn profile). The platform brings in some work but networking, colleagues' recommendations, etc is what leads to most assignments. Our profession is quite niche and people often confuse translation and interpretation, so general listings, adverts in general platforms, etc do not work for me. Also, clients normally don't source individual interpreters. Instead, they approach agencies or consultant interpreters, who will put together a whole interpreting team, hire the technical equipment and the technicians, etc.
Through the years, I have built relationships (and continue to do so) with agencies and colleagues who hire me but I also have direct clients for whom I have organised interpreter teams, equipment, technicians, etc.
Q: Did you do a lot of remote work through Zoom?
Yes, I did. All interpreting work during the pandemic was online. I worked on Zoom and other platforms specifically developed for simultaneous interpretation. About a year or two before the pandemic there were some remote interpreting platforms but, in fairness, the interpreting community was very much against it. Interpreters don't like it still because the sound quality is really bad. If you don't have a controlled environment with proper technicians, people connect with very bad sound quality or very bad connectivity. This makes it almost impossible to interpret at times and it can damage interpreters' hearing.
Suddenly the pandemic hit and, of course, all we freelance interpreters got for the first couple of months was job cancellations, everything was canceled. So for two months, I didn't know what was happening. Then, new remote simultaneous interpreting platforms were developed. The new platforms and the ones that existed before the pandemic became our lifeline. Little by little, some agencies who were fast to move to online work started to give me work. I developed a whole new range of clients – agencies and colleagues – as now I was hired to work in the US, Latin American and even Japanese markets. So the hours could be crazy at times. I also worked with European clients I did not know before.
So that, of course, opens up the market but it also opens up the competition, because you're competing at a global level with interpreters that charge less. Remember that Ireland is a very expensive country.
The format of the meetings also changed. People didn't run meetings for a whole day because online meetings are very tiring. But also, they didn't have to meet for three days straight because they weren't travelling to a place, they didn't have to pack all their meetings into two or three days. So I suppose for the clients it was nice that they could meet – say – once a week for two hours. They could touch base with their partners or clients or whatever more often.
But, accordingly, the fees went down. Once you prepare for a conference, whether it lasts two hours or a day, the preparation is the same. Sometimes I may have done a job in the morning and a different job in the afternoon, and that's double the effort for the same amount of pay.
So, not easy, but at the same time, you're not spending time and money commuting. It is lovely to have a couple of hours in the middle of the day and to be able to use them to go out for a walk, or to work in the garden, or to get your washing done.
Now that we are coming out of the pandemic we need to adapt again. I am not sure if the market for in-person meetings will be the same as before the pandemic or if it has changed. As with anything, the most difficult periods are the times of transition. In a way, I had settled into online work. I was, of course, missing my colleagues and missing the interaction, but professionally and financially, I knew where I was. I knew what to expect.
However, some of the agencies in Europe are still getting online work and some of the clients I got during the pandemic are hiring me for work in Vienna or Frankfurt or wherever, so they are staying with me as we move once again to in-person meetings.
Q: In terms of your travelling before the pandemic, how much time did you spend travelling? Would you say you spent three months travelling per year for work?
A: No, I would not spend 3 months travelling. Working trips are short: 1 to 4 days, normally. I might do two trips a month, occasionally three, sometimes one or none. I am based in Ireland. If you are living in Turkey or in an African country, for example, and you're looking for an English-Spanish interpreter, you don't think of Ireland: you think of Madrid or London. So, all work I do abroad is because of the contacts I have built, recommendations, etc. Now it seems like I might have more work abroad, because I have more clients and contacts outside Ireland – thanks to the pandemic, funnily enough. I do think about the consequences for the planet. But then, working online has an effect on the emissions caused by data centres. How do you resolve that unless the whole economic model and societal model is changed?
Q: Can you tell me about your voice over work? How did you come across it?
I got voice over work through translations. People would know me as an interpreter and ask me to translate and record the translation for different projects.
Examples of my voice over work would be audio guides for museums, in-flight announcements, training videos, video games…
One of the things in my bucket list is sending samples of my voice to voice over agencies. But I never have got around to doing it, so all the voice over work I have got so far is through word of mouth.
Q: What is the best part of your job?
A:
The best part of my job is that I have the privilege of get to know different worlds: what different people do, what different groups are like.. You are present when things are happening, you have the privilege of witnessing so many things! Clients need to communicate through you, they know you will keep everything confidential and they trust you. So you get to learn so much.
And by learning I mean not just hard facts, but just how people work, the dynamics, how religious orders work, (partially) the thinking behind political decisions, how trade unionist plan their campaigns, what threats do activists face, what work they do… how things work, it's just fascinating, and there are so many worlds out there. You learn so much, constantly.
And, of course, the work is so varied! You could be interpreting at conference of funeral directors; or for small Latin American farmers who are fighting against big agri-business; or visiting a lab where the most advanced technology is being used; or interpreting at press conferences for different sporting personalities… I think it is fascinating work.
Also, it's nice that I can travel a little bit. I have some colleagues that are just so burnt out, and they really want to travel less, but that's the work they do, they get called to travel all the time. A nice balance is good.
It's also nice to be part of different teams, meet different colleagues. And I also enjoy working with the usual team in Ireland. The market in Ireland is small, so for certain languages, the team is always the same, which is also lovely.
Q: What advice would you give to a new languages interpretation graduate?
A:
Get good training. Definitely get training, no one is born being able to interpret simultaneously, so make sure you do a course or that you get a mentor to support you in your early assignments until you get the experience. When you graduate, if you want to be a freelance interpreter, don't despair, it takes a while for people to know you and to trust you. To earn that trust, you have to be professional, you have to be collegial you have to be led by confidentiality, professionalism, respect, team effort. You have to help your colleagues, they're not your competitors. They're your team.
As I said earlier, most of the freelance interpreter's work comes from colleagues and referrals. So, networking is very important, and that takes time.
Try and join AIIC. In order to become a professional member you need to have worked 150 days and you need colleagues to sponsor you. But before that you can join as a pre-candidate. AIIC also organises activities open to non-members and new graduates. If you start to move in those circles, you learn how to behave professionally and ethically as an interpreter, you meet colleagues, you start networking. And of course, depending on where you live, at the beginning you will probably have to combine freelance interpreting with other work. I know it's not easy, but we have all done it: I used to give private language lessons, I used to work in restaurants at the weekends when it was less likely for me to get a conference, etc. And I still combine it with interpreter training and voice over work.
Q: What are the causes that are close to your heart?
I've always been involved in activism. When I went to Latin America it wasn't certainly a last minute idea. I was always interested. I became interested in Latin America very young, through its culture and music. When Pinochet was in power I was only a child, but I remember being really interested in Chile and what was happening there. I learnt about it through the New Chilean Song movement and as a result, I became fascinated by the Chilean people's struggle for justice. Later on, that interest brought me to learn about other countries and other struggles. So basically, to me is about social justice. And, of course, also about climate justice, because I don't think there's even a choice. I just think that how can we not be angry, worried, passionate? What we are doing to the climate, to the Earth and to our brothers and sisters is horrific, and it is real.
After I came back from Latin America I wanted to continue to learn about it and I wated to be involved in the fight for social justice.
As I said earlier, I did my MA in Conference Interpreting when I came back, but also I ended up working in the Latin America Solidarity Centre, a group that works for social justice through solidarity between Latin America and Ireland. I worked there for 14 years, initially as information officer and after 3 years I became the coordinator. Working in LASC was a huge learning curve for me. I learnt about many of the Latin American struggles, I met many activist: indigenous women, sugar cane cutters, water warriors, trade unionists, small peasants, etc. Meeting them kept fuelling my passion for justice, because you are in this constant conversation with people who are at the forefront of the fight against injustice, in the hardest edges of capitalism, and you start to make connections with your own life. You realise we can afford to live in welfare states because somebody else is paying for it. You learn how wars are provoked, at the edges of the developed work, because we seek access to their resources. Everything becomes suddenly clear. And once you see it once, I don't think you can stop seeing the injustice, because you see everything with different eyes. You start questioning how things are presented to us by the media and the powers that be. You look at the world with a critical mind.
Most people have a good heart. It's just a lack of analysis and a lack of knowledge of what really is happening. Lack of access to true information.
There are always going to be people who try to take advantage of the rest but they do that because the rest of us let them! Because we have allowed this capitalist system to prosper, a system based purely in greed.
Looking at today's world from that point of view, you'll realise that aid and handouts are not the long term solution. You have to ask yourself why are we in situation in which "developed" countries need to give foreign aid to "developing" countries. If we weren't taking their resources, for example they wouldn't need us. Or if we in the West weren't emitting so much CO2, they might not be displaced by climate change. I could go on.
So charity for me is not a model. We have to keep that in mind when volunteering abroad. We need to be honest with ourselves and recognise that we have probably more to gain from the exchange than those we are supposedly "helping".
For me, going to Latin America was about learning about its people and its social movements. I wanted a better insight and a better analysis. I was going to test my interpreting skills, I was going to learn things. I wasn't just going there to help, because I think the only way we can help each other is through solidarity. If you have a struggle, I can stand with you and support you. But I have no authority to tell you what you need or to give you things: charity puts the giver in a position of power. It creates unequal relationships.
Q: would you say that volunteering for an international organisation would be actually a good career move for someone who's just graduated?
I would advise people to volunteer if they're clear that they're not causing more damage than benefit. And if they're honest about why they do it. As an interpreter, volunteering can help you develop your language skills. I've been volunteering a few times, I've been woofing (WOOFF Worldwide Volunteering in Organic Farms). For me it has been a way of improving my French while working outdoors. Woofing is working on organic farms in exchange for food and accommodation: to me it's a great way to spend two weeks on my holidays, getting fitter, getting out and getting to know the culture and practising my French.
If you are a recently graduated interpreter, there are plenty of opportunities to volunteer for organisations who have very good causes and can't afford interpreters. It is a great way to gain contacts and experience. Lots of my students interpret for Via Campesina, an inspiring international movement of peasants fighting for food sovereignty. They have lots of meetings, so they often need interpreters. They're a great source of opportunities for newly graduated interpreters to acquire experience.
Paola: Thank you Azucena for being so generous with your time and for sharing about your experience.