Digital Nomads FAQs Part 2
This article is in partnership with Day Translations and Day Interpreting, see their promotional offer below. The digital nomads frequently asked questions continues in this post, featuring topics discussed in various forums.
How Is the Digital Nomad Lifestyle?
On paper, the digital nomad lifestyle is aspirational: great locations and work flexibility are an intoxicating combination. While the traditional images of digital nomads taking selfies with their laptops on a tropical beach have gone out of fashion, the nomad lifestyle still has huge appeal for those who dream of a different routine and a more exciting future.
Lifestyle boils down to a few essential factors:
having enough money
having good health, both physical and mental
having enough clients or a solid business
having interests outside work
having a good social life.
Many digital nomads in forums complain of their lack of social life and, at times, of feeling lonely altogether. When family and friends are thousands of kilometers away, video calls may not be enough to fill the void from not being physically close to loved ones.
How To Budget Each Month for Digital Nomads?
You may already be keeping a spreadsheet with your outgoings. It's probably the easiest way to keep an eye on your budget. I personally use both a spreadsheet for major items of spending and track my day-to-day purchases on a free budgeting app.
The act of entering each purchase I make on the app is a good deterrent against impulse buying, and the monthly summary is a useful tool for me to populate the main spending spreadsheet.
The most expensive item on digital nomads' budgets is accommodation, with travel costs being a close second. Depending in which country you are in the world, food can be quite expensive, particularly when eating out. For example, in Europe places such as Ireland and Denmark have a high cost of living: food shopping can punch a big hole in your budget. At the time of writing, food prices in Ireland have gone up between 20% and 50% on various items (prices observed during 2022). Even with the strictest budget, rising food costs will likely require some rethinking of how you spend.
With other items such as a local SIM card and wifi, negotiating a good price can make a difference. So, when it comes to budgeting, adapting to changing circumstances is the key to curb your spending.
What Jobs Can Digital Nomads Do?
There is a whole section about jobs and freelancing on this website (see in particular this post about jobs).
It may come as a surprise but TikTok can be a good source of information: if you search for digital nomads and digital nomads jobs you can find a whole host of short videos sharing tips. The nature of remote work is constantly changing and so are the jobs that are more in demand. While coding is ever popular, virtual assistant roles have evolved to provide support to social media influencers, for example. Related to that, social media management is here to stay: many entrepreneurs simply don't have time to respond to all the comments and direct messages they receive on social media and they need to rely on outside agencies to engage with their followers.
How To Start a Digital Business that Allows You to Travel?
Getting good business advice from local enterprise offices in your home country is a great way to start. For example, in Ireland there are Local Enterprise Offices all around the country providing advice on how to start a business and offering various incentives such as grants as well as free training.
Doing some solid market research will also help you establish whether your business idea is viable and it caters for a real need or gap in the market. Engaging in regular in person and online networking is key to establish good contacts that could help you in the future.
Getting online testimonials and reviews is pretty much a must-have to build trust with potential clients.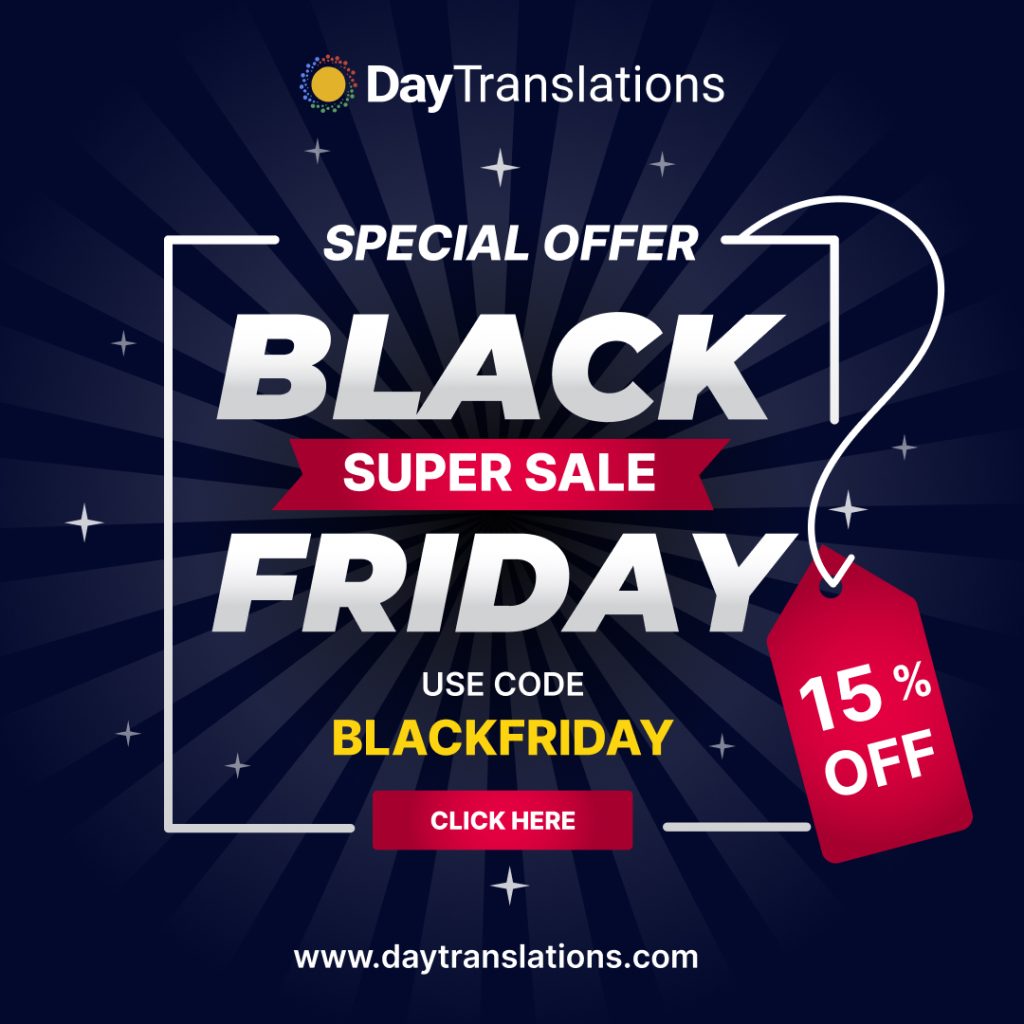 Black Friday Promotion
For Black Friday 2022, Day Translations offers 15% off onall services with code BLACKFRIDAY at checkout.
Day Interpreting offers new clients $15 in credit to use for on-demand interpreting services using the coupon code DIBLACKFRIDAY. Clients can request video or phone interpreters in 190 languages 24/7 for any area of expertise: legal, healthcare, education, business, etc.