Collapsible Travel Coffee Cup Review
Space-saving is the name of the game when packing. What if we could also save the environment at the same time? Here's a review of a collapsible travel coffee cup that would come in handy for coffee-loving digital nomads.
The Problem with Disposable Take-away Coffee Cups
It's quite common to get one or more take-away coffee when working and travelling from local establishments. Most of the disposable coffee cups are not recyclable and end up in landfill. In the United States 25 billion disposable cups are thrown away each year; in the UK 2.5 billion cups; in Australia 1 billion cups. So-called "paper cups" used for take-away coffees may contain polyurethane plastic, which makes them not suitable for composting and recycling. In response to this issue, some retailers have decided to stop using non-recyclable cups and have asked their customers to bring their own reusable cups, for example the UK supermarket Waitrose.
If we consider that we can change our habits to lower our environmental impact, switching to reusable coffee cups is a no brainer.
Reusable Coffee Cups: Make Them Collapsible Too and We Have a Deal
One of the most common complaints coffee (and tea) drinkers about reusable coffee cups is that they are quite bulky to carry around. What if we could simply pop a cup in our pocket?
Someone has thought of the solution – collapsible and reusable travel coffee cups. These cups are made from silicone, which gives them enough flexibility to shrink into a few inches tall. They can easily fit into a pocket or a compartment of a rucksack without taking much space. So far there are only a few suppliers that produce these collapsible cups and most of them are based in China, therefore the delivery time can be 3-4 weeks depending on where you are in the world. A few local retailers may also stock them so it's worth having a browse.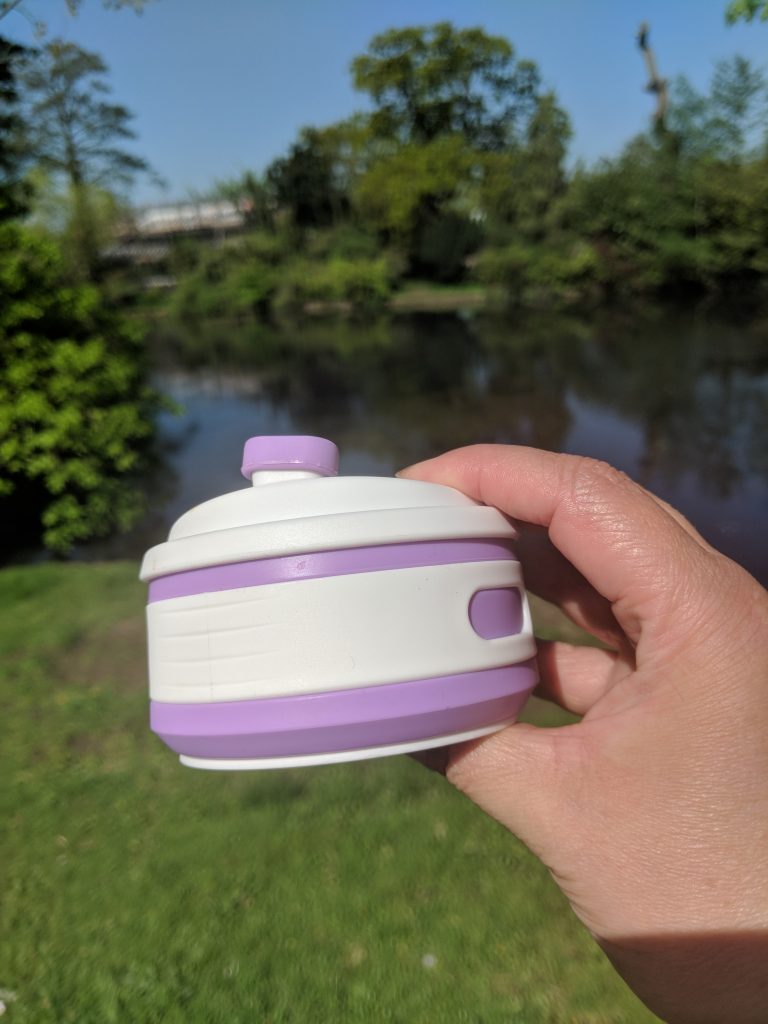 Collapsible Coffee Cup Reviewed
It takes a bit of practice to get used to drinking from a collapsible coffee cup: because of the way it's designed, if you suck the coffee instead of pouring it into your mouth you create a vacuum, which shrinks the cup. When you have finished drinking, keep the seal on the lid open to allow the air to come out of the container and then close the seal. Even if there is a little liquid left in the cup it shouldn't spill. I have also tried closing the seal on the lid halfway through drinking my coffee and then turning the cup upside down over my head and there were no leaks.
I got my collapsible coffee cup from Amazon from a Chinese supplier called Bomien (affiliate) and the delivery took about three weeks. You can choose from six different colours (light blue, light green, pink, grey, dark blue, purple) however all the cups come in just one size (approximately 350 ml), so if you are a fan of supersize drinks you may need to get two cups.