A Day at Neven Maguire's Cookery School, Blacklion County Cavan
He spins the tunes, he spins the sugar (to make a decorative caramelised sugar basket): is there anything Neven Maguire can't do? Together with his wife Amelda, who has an exquisite eye for interior design, Neven Maguire's Cookery School is the place that you are sad to leave after being treated like royalty. And let me tell you: to be among the seven winners out of 5,000 entrants to Dunnes Stores Simply Better competition to enjoy a whole day at Neven Maguire's Cookery School, it is like having a seat at the table with the Williams, Kates, Harrys and Megans of this world.
Competition winners could take one person along with them as part of the prize and we were a mixed group of people on the day with some couples and friends who had travelled from all corners of the country including Dublin and Cork.
What's on the Menu at Neven Maguire Cookery School?
After driving for two hours from Athlone to Neven Maguire Cookery School in Blacklion, County Cavan, my friend and I were welcomed with freshly brewed coffee and cakes, which were duly "hoovered" straight into our bellies. That was the perfect fuel for a fun-packed day cooking, meeting new people and laughing all the way through.
The cookery school is next door to Neven Maguire's award-winning restaurant MacNean House & Restaurant, which famously has a waiting list for bookings. The restaurant has 60 sittings per night and is open for dinners only, five days a week. It was started by Neven's parents and, as Neven said on the day, it has been an "amazing journey". The restaurant employs 60 people, the longest serving employee has been working there for the past 44 years and, on average, staff members stay for 10 years, which is an outstanding achievement in the hospitality industry. This is all down to chef Maguire's care for his employees, who stay loyal to him. His vision is long-term, it's about looking after his guests and staff.
Neven knew he wanted to be a chef since he was 12 years old and he went on to study home economics at school. As a teenager he even worked as a DJ, Neven shared with us, and you can see him spinning house tunes on his Instagram Stories. He joined Enniskillen cookery school and later became one of its tutors, working there for 15 years.
Chef Maguire's classes are all about having fun cooking and I, as a participant/student, can totally vouch for that.
The day's menu for the cookery class I attended included:
chocolate and pecan nut brownies
cornfed chicken korma with sweet potatoes
prawn and chorizo skewers with Piri Piri dressing
summery berry trifle
spun sugar
All participants received a recipes booklet with detailed instructions and ingredients lists. Chef Maguire collaborates with Simply Better at Dunnes Stores, so we used Dunnes Stores' ingredients, which have been carefully selected for their quality and to support local food producers.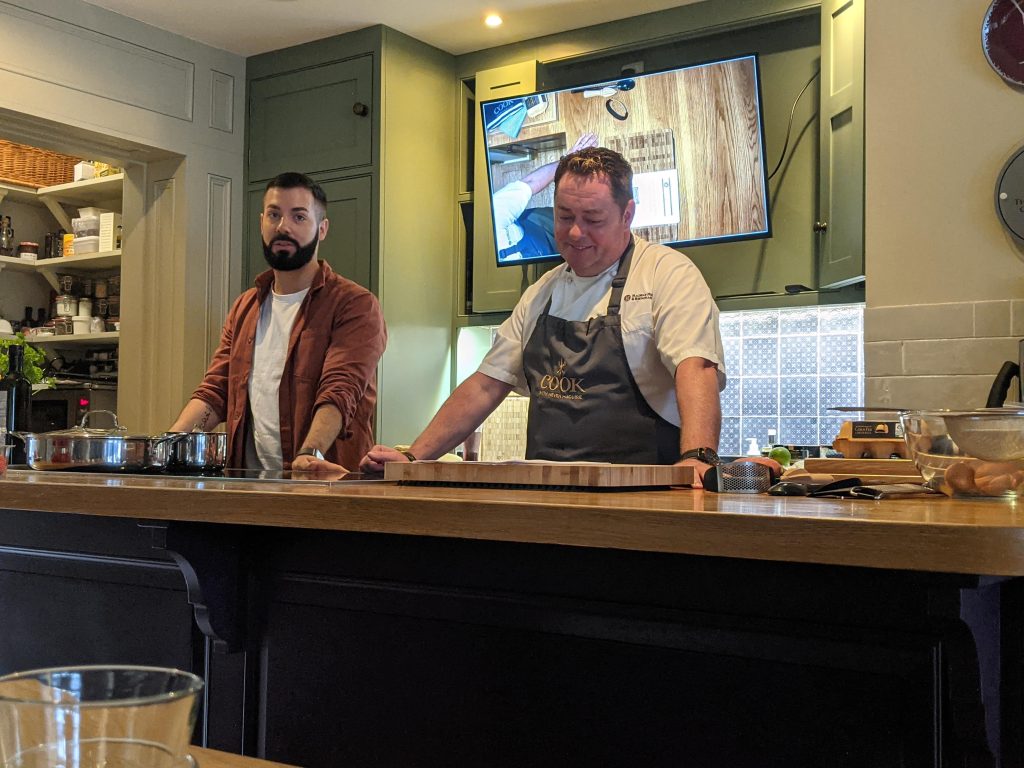 Cooking with Neven Maguire
If you follow Neven Maguire on Instagram you will know that, during lockdown in Ireland, he posted recipe videos on a regular basis. His warmth and engaging personality really shine on social media, and even more so in person.
Neven explained each recipe and demonstrated it, ensuring we understood each step and giving us tips along the way, also recommending food substitutions if anyone needed it, for example swapping prawns with halloumi.
Meats, seafood, sweet potatoes and condiments came from Simply Better at Dunnes Stores, and so did all the cookware. We ate fresh salad leaves straight from the restaurant's polytunnels, that we got a chance to visit during the day, almost oblivious of the constant rain. Neven also took us students to the bar and dining area of MacNean House & Restaurant and even to the most sacred of places, the kitchen.
The key message is local food and local staff – that's the secret of Maguire's restaurant and cookery school (started in 2014), as well as an important factor for the restaurant's longevity.
Neven's job is made easier by putting everything into context: he travels on a regular basis around Ireland and Europe to meet food producers and he has developed strong working connections with all of them. He spoke enthusiastically of Irish garlic growers, Irish rapeseed oil producers, Irish spice merchants (we used turmeric and curry mix from an Athlone supplier), Irish strawberry growers and so on. His passion is genuine and stems from a profound respect for the hard work that goes behind the scenes to deliver high quality food to supermarket shelves and our tables.
Coming Home Equipped with Much More than New Cooking Techniques
Our day at the cookery school was so eventful it's impossible to summarise it in one convenient soundbite.
These are some thoughts on the overall experience:
the atmosphere was welcoming and fun
we all got to know new people
we learned where all the food comes from, including local food producers and the fresh vegetables for MacNean House & Restaurant just a few feet away in the garden's polytunnels
we got to try new kitchen utensils and new cooking techniques
Darragh at Simply Better put together an amazing goodie bag for all participants which was very generous, and Neven also gave us a signed copy of his recipe book 'Midweek Meals'.
Us participants left the class on a high: personally I felt like I was leaving a very familiar place, somewhere I would love to go back to, and felt an immediate pang of nostalgia as we set off to go back to Athlone.