Co-working Hubs in Ireland
In partnership with Day Translations. According to the Irish government's website (gov.ie), in 2022 there were 300 remote working hubs and almost 5,000 desks in Ireland offering shared office space and desks. This is part of an initiative to promote remote working in Ireland and in 2022 alone people received more than 3,300 vouchers to access free hot desks in co-working hubs through the portal Connected Hubs.
Availability of Co-working Hubs in Ireland
Remote workers who want to avail of shared office space in co-working hubs have quite a good choice of locations, however it is worth noting that a large number of hubs are based in Dublin.
However, the Irish government has also issued 1.1 million euro funding to create hubs in rural areas to not only attract remote workers to towns and villages across the Republic, but also to develop such areas providing an alternative to Dublin. This work has culminated in the creation of the National Hub Network which aims to support the collaboration between hub managers, state departments and government agencies.
Map of Shared Offices in Ireland from Connected Hubs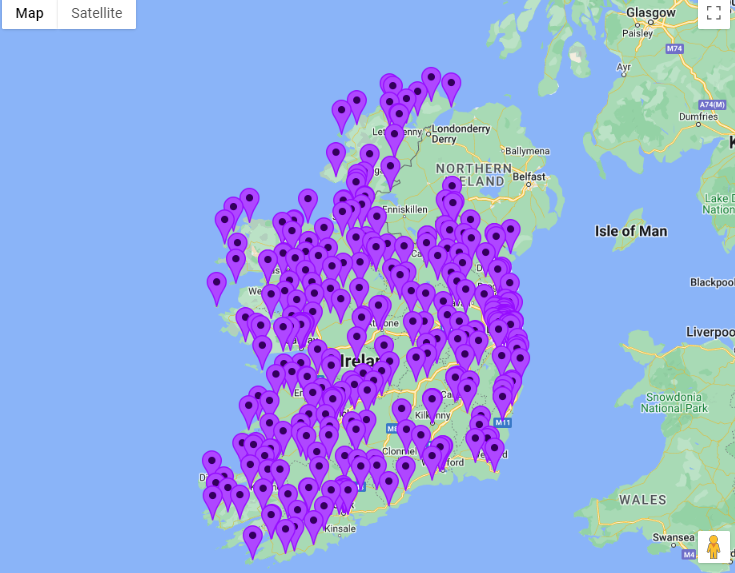 As you can see from the map from the Connected Hubs website, there has been a consistent effort to provide shared offices in as many towns and villages in Ireland as possible. It is particularly noteworthy that both the West and North West regions have been well catered for, because these areas in the past did not receive as much investment and funding as Dublin and its vicinity.
The network of Connected Hubs across Ireland started in 2021 with only 60 units and has been growing steadily and exponentially.
Simply the fact that the Irish government has backed this initiative with considerable funding, allowing remote workers to use about 10,000 hot desks for free for a specified number of days within a trial period (until the end of 2022), is an indication of how serious Ireland is about remote work and flexible modes of working. According to RTE about 12,000 people use hubs in Ireland.
The normal cost of hiring shared office space through Connected Hubs ranges between 15 and 20 euros.
Hubs have been developed to include facilities such as podcasting studios, audio-visual studios and networking areas. The Irish government wants to encourage people who have been working from home to use the remote working facilities; incentives include covering the cost of hiring office space for employees. Additionally, people who choose a remote working hub in Ireland can benefit from business support particularly for start-ups or businesses still in their early years of trading.
The Advantage of Using Co-working Hubs for Foreign Remote Workers in Ireland
Considering the previous point about the facilities that you can find in co-working premises in Ireland and the incentives to use them, it is an advantage for foreign workers to choose remote hubs because they allow to:
use fully equipped office space at an affordable day rate
avoid committing to long-term rental contracts for premises
get the opportunity to network with local businesses and freelancers, with the potential of partnering with clients and contractors.
The networking element of using hubs is a key selling point in Connected Hubs because through engaging with fellow remote workers and entrepreneurs you are more likely to not only keep motivated but also exchange ideas and be open to innovation. Start-up founders and freelancers may find their work quite isolating, therefore having the opportunity to interact with others in a hub environment can increase productivity.
To book a meeting room or a hot desk, you first need to register. After a successful registration you can then access the booking and payment facility on the website.
With more than 1,500 multinational companies having established offices in Ireland (Google, Facebook, TikTok, Revolut, Etsy, Indeed, Udemy, Squarespace, Asana and Slack to name a few), the Irish Republic is an attractive destination for remote workers aiming to gain international experience.